How To Find A Painting Contractor
June 02, 2022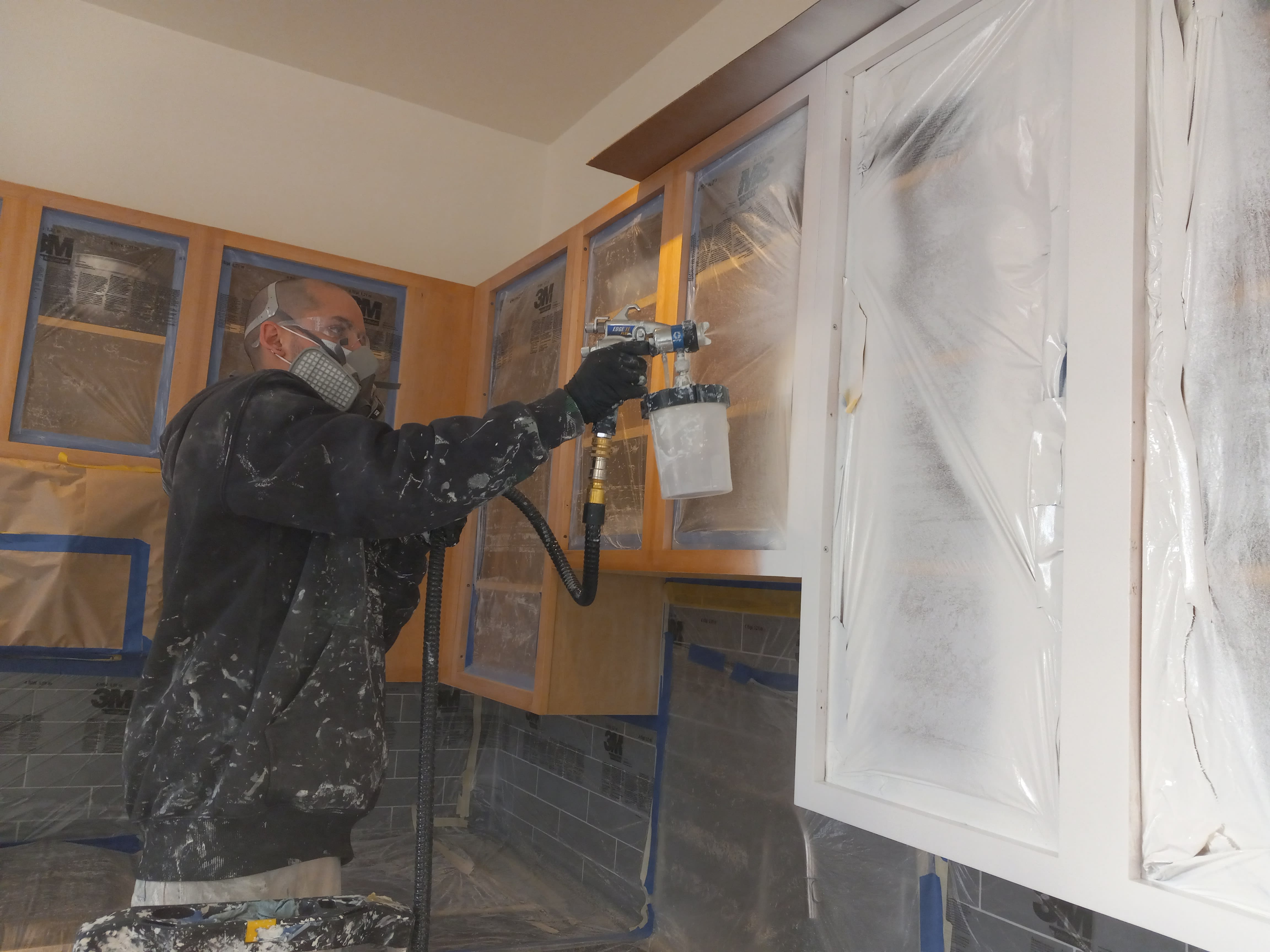 Finding a reliable, trustworthy Painting Contractor to help you with your painting project can be overwhelming if you've never done so before or don't know how to vet out a professional who will take care of your home like you deserve. As technology progresses, the ways in which everyone finds dependable, quality businesses also changes so it's important to keep updated with the best methods for finding home service professionals. Below are the tips that we would recommend to ensure that your next painting project results in a beautiful home that you are excited about!
Reputation Is Key
Nowadays business owners can't afford not to invest in their online presence and reviews. Equally, it pays off for you as a homeowner to check out the contractors you work with online. Google is your friend here as it is and will be for the foreseeable future the top reputation platform. If you shop like most of us, you tend to favor businesses with lots of positive reviews so by simply searching 'painters near me' or something similar and taking a look at the painting contractors with the highest and most recent reviews will set you started on the right foot.
Most all house painters who have been in business long enough will inevitably receive a negative review. These are often more important to note than what the positive reviews say as it shows you how that company handles issues and how they treat their customers when something does go wrong. Do they reply or ignore the negative review? Do they treat them with respect and provide a solution to the problem or are they defensive and hostile? Noting these details should give you a clear idea of how they take care of their customers even when the project doesn't go exactly to plan.
There are other platforms such as Angi, HomeAdvisor, Facebook, NextDoor, etc. that also allow reviews to be made for businesses that can be worth checking out as well, however, Google is still seen as the most used and most reputable source to help you find contractors.
It can also pay off to check out the websites of the painting contractors you find. Here, you should be able to find what specific services they offer, see pictures of past work they've completed, learn more about the company's culture and overall, get a better feel for whether or not they would be a good fit for you.
Referrals from friends, family, and neighbors can also be very helpful for narrowing your search. Oftentimes, the best source for a painter can come from within your inner circle. They can tell you how their experience working with a particular contractor was and it allows you to ask all the questions that you'd like to get answered. If you can have someone you know recommend a painter they've worked with, it's a great idea to also search for them on the web to see how other people's experience was with them. Getting a referral is very beneficial as most homeowners who have worked with contractors before usually don't remember the name of whom they worked with unless they provided an excellent (or nightmarish) experience for them that stuck in their mind.
Check out online reviews and ask for referrals from people you know
Don't Waste Time. Screen Prospects
Painting a house can seem like a pretty straightforward process but in reality, you can receive a pretty wide spectrum of different experiences depending on who you hire. Knowing what is important to you is critical for finding an ideal candidate for your painting project. Is speed important to you and do you need your project done yesterday? Are you moving into your new home and want to ensure the highest quality products and processes are used or are you moving out and just want to quickly get a fresh coat of paint on the walls?
Price is understandably a big pain point for a lot of homeowners and while there are professional painters out there that may charge less than all their competitors, they oftentimes will not provide you with the experience or results you are hoping for on your project. It's said a lot but the saying 'You Get What You Paid For' is very relevant when it comes to home service contractors. Going with the painting business that gives you the cheapest quote can many times cost you more than if you had hired a more professional company as the cheapest painters usually like to use the cheapest products and ignore the essential preparation work that is necessary for painting any surface in your home which can lead to needing repairs or hiring a different contractor to come and fix these mistakes.
Having a rough idea of when you want your project to be started can be very helpful for filtering down candidates because if you call enough contractors, you'll get a lot of them telling you that they don't have availability for your timeline which then gives you the choice to either decide on a different start date for your project or cross that particular candidate off your list. Most home services, especially painting tend to be seasonable (especially those in areas where summers are warm and winters VERY cold) meaning a lot of painters are busier in the months of March-October and less busy in the months November-February so it's nice to keep that in mind when planning out your painting project.
One thing that separates professional painting companies from the "Chuck in a Truck" type painters is whether or not they are insured and if they offer a warranty for their work. Having general liability insurance ensures that if anything were to get damaged while working on your property, you will be able to be recompensated for whatever gets damaged. Equally as important is to ensure that the business has Worker's Compensation insurance which covers any employee injury that was to happen while working on the job and ensures that said employee can not come after you.
Know what's important to you (speed, cost, quality, etc.). Ask for proof of insurance and if they availability for your timeline
Who Will Be Painting Your Home?
You may think that the company you pay to paint your property will be sending their own employees to paint your home, there are lots of cases where that is not what happens and it's important to be aware of this when hiring a painting business. Many home service franchises and even local painting companies utilize a Subcontractor model which essentially means that the painting business you hire will be working with other painters who will be the ones to actually come and apply the paint via an agreed-upon contract by those two parties. These Subcontractors operate their own (often smaller) painting businesses and are not employees of the painting business you hire.
This may come as a surprise to property owners, especially if it is your first time hiring a professional painter however many of these partnerships work out very well for everyone involved and a large part of the home services industry operates on this model. There are cases though when the Contractor you hire will work with and assign a Subcontractor to your job who does not have insurance or the experience necessary for your project so if it matters to you, it's often smart to ask candidates what type of model they use (a Subcontractor model or an employee model).
Another question you may want to ask Contractors is if their painters and employees are background-checked. Knowing this is a good tell-tale sign of how professional the Contractor is and how much importance they place on customer safety and employee screening.
Do they use Subcontractors or W-2 emplyees and are they background-checked?
How Do They Communicate?
Communication can be just as important to you as getting your walls or cabinets painted the way you want them to be as it is a critical component for an all-around fantastic experience. You should take notice of how a Contractor interacts with you from the first phone call or message sent to them. How quickly do they respond? Are they helpful and friendly? Do they seem to have your best interest in mind? Are they confident in their own service? These are all questions that you may want to consider as they can act as a foreshadowing of how the experience of working with them will be.
Professional Contractors will provide you with constant updates when working on your project, they will notify you of any changes or issues that arise, they will be able to answer any questions you may have, and will all in all supply you with constant communication throughout the whole process of painting your home from start to finish. This is important as it allows you to become aware of the progress of your project, if it will be completed within your desired timeline, and just give you confidence in who you've hired to work with as it can be a daunting process, especially when you don't know how well the progress of your project is going.
How they communicate from the first interaction can give you a picture of what to expect throughout the whole process of your project
Do You Trust Them In Your Home?
For most people, their home or apartment is the most intimate spot they inhabit throughout the day and where they feel the safest so having trust in who you allow in your home is crucial. Having your home painted is also not a cheap expense so having confidence in a Contractor's ability to execute on your project is also important. As said above, how they communicate to you can either act as a deterrent or can do the opposite and establish trust. Although you can determine a lot about an individual's and a company's personality over the phone, it becomes much clearer if you trust them when meeting them in person for an estimate.
If the estimator who comes to your home seems to be in a rush or doesn't have a nice and helpful attitude, then you may want to consider those as warning signs. It can be a little scary having someone come into your home who've you've never met before and you don't know what to expect so it's valuable when an estimator or the business owner is able to calm those fears and is able to treat you and your home with respect and the purpose of serving you. It's a stressful experience when you don't trust somebody who's going to be working in your home so pay attention to your instincts and feelings about a Contractor when meeting with them.
Having trust in who you hire and allow in your home is critical and can often be determined by how they communicate and how they present themselves at the estimate
So when people ask us "how much does it cost to paint cabinets" or the average price to paint kitchen cabinets, we have them run through this list of different factors that affect the cost of painting kitchen cabinets. We also try to make the process of figuring out the cost to paint cabinets easy for anyone by offering you the ability to receive a free quote virtually through our website so that you can figure out the price of your project quickly and with no obligations. Get a free cabinet painting quote today to figure out how much it costs to professionally paint your cabinets!