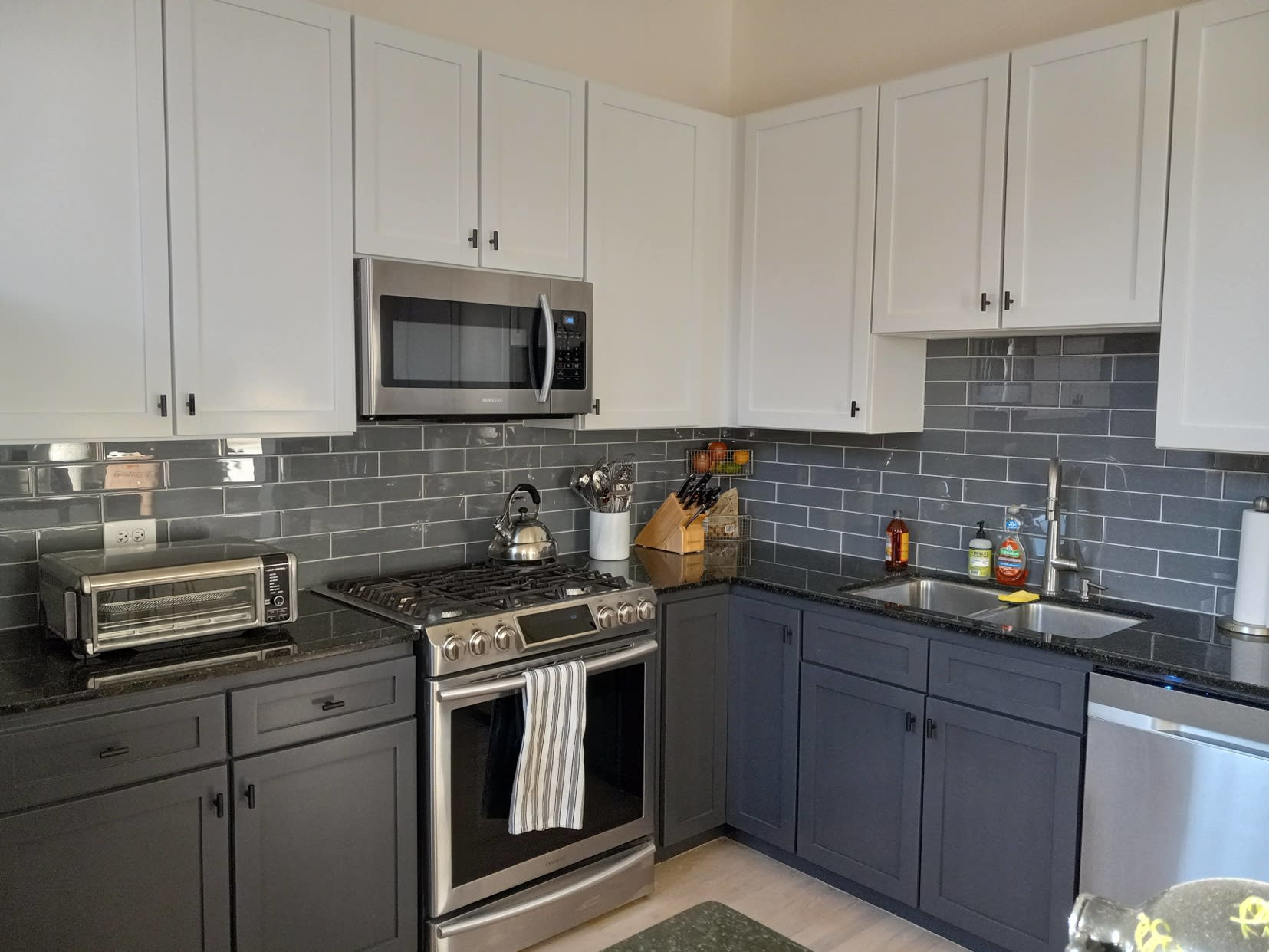 Cabinet Refinishing
Done Right.
The best and
most affordable
way to update a kitchen is to refinish your cabinets. Cabinet refinishing in Chicago is a detailed and technical process that can revive the look of your cabinets and provide a factory-like finish.
The whole process generally takes 4-5 days and is most often times
1/5 the price
of replacing your kitchen cabinets
At Pivot Painters Chicago, our goal is to transform your home and provide you with the
best cabinet refinishing Chicago has to offer.
Let our professional painters help refresh your cabinets today!
Schedule A Free Estimate
What Past Customers Are Saying
Noah and Manny painted 2 bedrooms and 2 bathrooms for me. They did a great job at a reasonable price. They are professional and trustworthy. Great follow up. I couldn't be happier and I highly recommend them.
Cost of Cabinet Refinishing
Read our latest blog post on cabinet refinishing to learn how much it will cost to paint your cabinets professionally or
Click Here
to get a free virtual cabinet painting quote today!
How Much Does It Cost To Paint Cabinets?
Getting your cabinets painted professionally can completely change the look of your kitchen or any other room and can be much more cost-effective than replacing your cabinets. When done professionally, your cabinets will come out looking brand new…
Why Hire Pivot Painters?
Refinishing cabinets is
highly technical
and there is a right way and a wrong way to paint cabinets. Doing it incorrectly can invite deterioration, peeling, and loss of color in just a few years.
With Pivot Painters Chicago, those worries are not an issue as our professional crews of painters use
industry-leading techniques
and materials to prevent them from happening.
Our Chicago cabinet refinishing crews are committed to providing a
beautiful, detailed, and durable result
that will last for years. Let Pivot Painters, the top cabinet refinishing Chicago company transform your kitchen cabinets!
Our Cabinet Refinishers Are Trusted and Reliable

Only Use the Highest Quality Materials and Equipment

Quality Craftsmanship and Attention To Detail

Years of Professional Experience
Advantages of Refinishing Your Cabinets
Refreshes Your Home Repainting or Refinishing your cabinets can modernize an outdated kitchen, bathroom vanity, shelves, or any other cabinetry you may have within your house.

Cost Effective Updating the look of your home doesn't need to cost a fortune. Refinishing or Painting your existing cabinets is much cheaper than replacing them.

Convenience Pivot Painters Chicago uses industry-leading techniques which means you get brand new-looking cabinets without the long time and inconvenience of replacing or refacing your cabinets.
Want to know more about our cabinet refinishing Chicago services? Call (312) 854-9180‬ today!
Want A Free Virtual Cabinet Painting Quote?
Request Your FREE Quote Below
Customer Reviews
"I have built two homes and have done a huge renovation on another. I have worked with numerous tradesmen over the years. Pivot Painters did a stellar job! They arrived on time, very pleasant to have in my home and were very clear and fair in their pricing. We will definitely hire them for our next big project!"
-Jennifer Warden
"They are great!! They always there on time. Very dedicated, you feel like they do the job for their own house trying to get the best result possible! Manny and the team are awesome. I have nothing to say but highly recommend them for your project."
-Mohammed Osman
"We are very pleased we chose Pivot Painters (Manny). They did our living room, Dining room , Kitchen, Halls and all the ceilings. All one open area with vaulted ceilings. They went above and beyond. The whole job turned out better than expected. Beautiful work. I will recommend them to everyone. We will call him again."
-Bruce Dolence