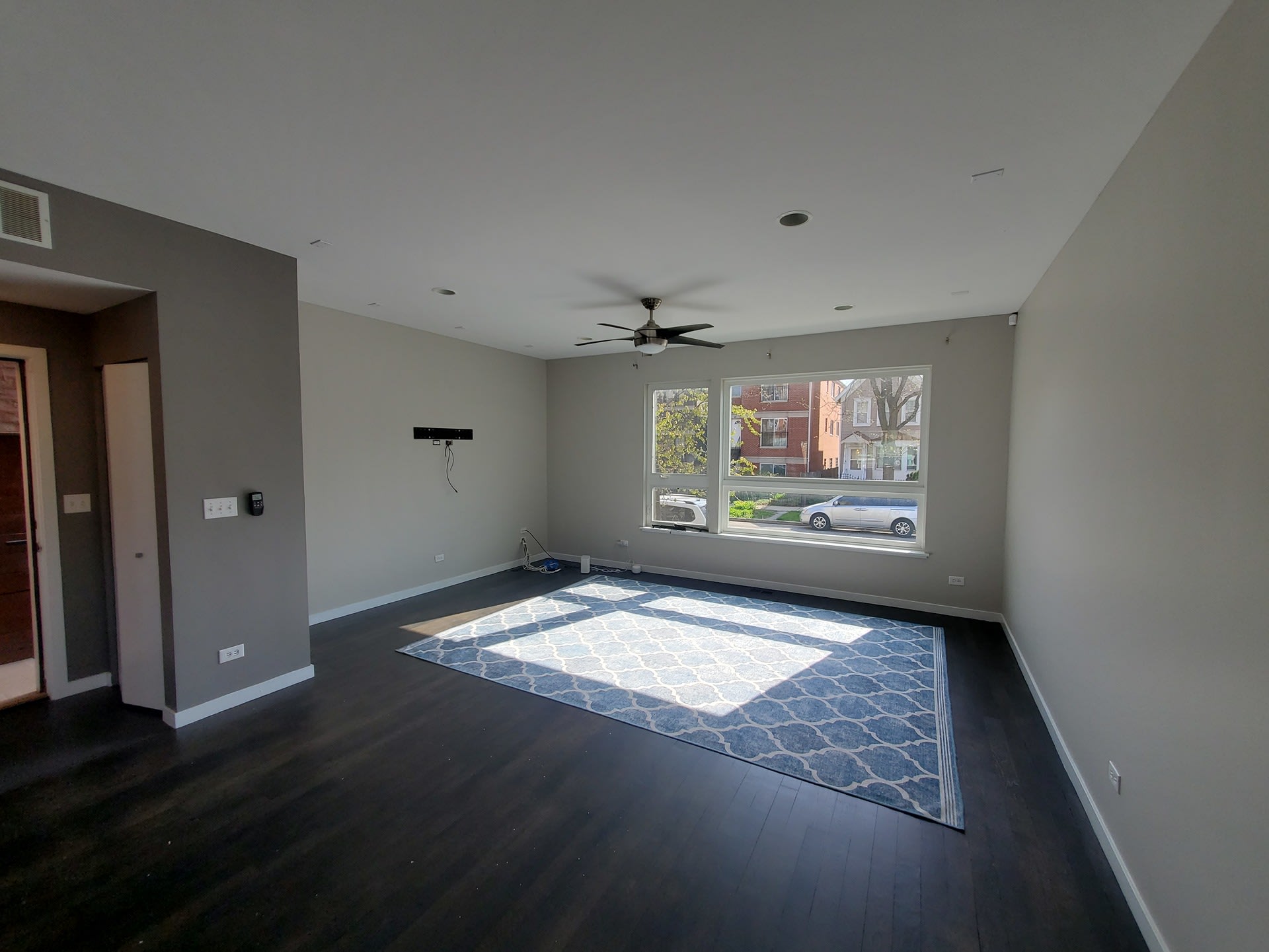 Interior Painting
Done Right.
Pivot Painters
makes your house feel more like a home
through our Chicago interior painting service. Our professional painters are freaky, friendly perfectionists who pay attention to all the details and take pride in their work.
Interior painting is a great way to give your home a new look as color and finish are two very powerful traits that can define a home's character by themselves.
Whether you are looking to change the colors and feels of your home, are moving in or out, or manage a property that needs to be repainted, Pivot Painters Chicago is eager and happy to help provide the
best interior painting Chicago has to offer!
Schedule A Free Estimate
What Past Customers Are Saying
Noah and Manny painted 2 bedrooms and 2 bathrooms for me. They did a great job at a reasonable price. They are professional and trustworthy. Great follow up. I couldn't be happier and I highly recommend them.
Why Hire Pivot Painters?
Interior Painting may look easy on the outside but in order to be left with a
high-quality, seamless finish
, you either need to hire a professional or have a weirdly high natural talent of precision and hand-eye coordination. Painting incorrectly can result in wavy lines, patchy spots, peeling, and even damage to your home.
With Pivot Painters Chicago, you don't have to worry about any of that as our professional interior painting crews use the best quality materials and
industry-leading techniques
to prevent those issues from happening.
Being comfortable and
enjoying the feeling and look of your home
is a beautiful thing! Color is a very powerful instrument for conveying emotions and adding to the ultimate appearance of your home which is why interior painting can make such a huge difference.
Our interior painting Chicago crews understand this and are
dedicated to deliver an outstanding experience
and help redefine the look of your home the way you want it!
Trusted And Experienced Professionals

Use Premium Quality Materials

Constant And Reliable Communication

Lifetime Touchup Warranty
Advantages of Interior Painting
Refreshes Your Home Repainting your walls, ceiling, or baseboards can modernize an outdated color scheme, brighten up your rooms, and give the interior of your home a different character.

Cost Effective Updating the look of your home doesn't need to cost a fortune. Chicago interior paint services can be a much cheaper way of transforming it's appearance and feel.

Protects Your Home Our Chicago Interior Painting crews use high-quality paints and coatings that are designed to help protect your walls, baseboards, and ceilings from wear and tear.

Increases Property Value Interior Painting is one of the best and most cost-effective ways of increasing the property value of your house or condo and can make it look much more appealing to potential buyers.
Want to know more about our interior painting Chicago services? Call (312) 854-9180‬ today!
Ready to transform your home?
Request Your FREE Quote Below
Customer Reviews
"I have built two homes and have done a huge renovation on another. I have worked with numerous tradesmen over the years. Pivot Painters did a stellar job! They arrived on time, very pleasant to have in my home and were very clear and fair in their pricing. We will definitely hire them for our next big project!"
-Jennifer Warden
"They are great!! They always there on time. Very dedicated, you feel like they do the job for their own house trying to get the best result possible! Manny and the team are awesome. I have nothing to say but highly recommend them for your project."
-Mohammed Osman
"We are very pleased we chose Pivot Painters (Manny). They did our living room, Dining room , Kitchen, Halls and all the ceilings. All one open area with vaulted ceilings. They went above and beyond. The whole job turned out better than expected. Beautiful work. I will recommend them to everyone. We will call him again."
-Bruce Dolence